Research and Resources
Use these handy library tools for references & resources, to discover websites, new books, e-books and other materials. These website contain information and a link to online research. Browse these sites to see what is new!
Tex Share Databases-- Try these databases filled with magazine articles, encyclopedia entries, and other materials to help you discover more on any subject, from general interest to business, hobbies, and more. Please see your librarian for a username and password.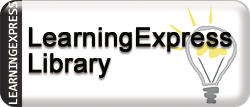 Learning Express Library-- Whatever your goal, these resources will help you succeed. Each of our Learning Centers offers the practice tests, exercises, skill-building courses, eBooks, and information you need to achieve the results you want—at school, at work, or in life. Looking to land a job? You'll find an entire Learning Center dedicated to helping you get the one that's right for you.
Good Reads-- Interested in the latest news headlines? Looking for something new to read? We'll get you pointed in the right direction.
Selected Sites-- This collection of recommended Web sites will makes it easy to find good information on the Internet on a wide variety of topics. Browse or search these sites.
E-Books for Texans-- This is an excellent e-book support site to help users get information on how to download e-books, how to get your ereader to work and general help with their Kindles, Nooks, iPads, etc.
 Sign up for a free online computer class at GCF LearnFree

National Library Service for the Blind & Physically Handicapped (NLS)